Standard Web Hosting is made up of three essential components; a domain name, a website, and cloud hosting. It provides the server space where your website lives on the internet. Website hosting helps in running your website over many different servers. It's a great option in case hardware fails because the website will remain online.
A domain name tells the audience where to find you, your website is viewed by your visitors, and hosting helps in making your site a part of the internet. It's just like a website is your house and your domain name is your address and the website hosting is the plot of land.
If you are looking forward to exquisite hosting packages then don't forget to visit us. We offer such powerful features and tools that not only help you to build your website but also define your website.
For choosing the right standard website hosting package, first think about the goals of your business which primarily includes how you plan to use your website, and how much traffic you expect. We have an experienced team that helps you in choosing the right package for you as per your needs and expectations.
Our Standard Website hosting packages vary by size of disk space, monthly data transfer, number of email boxes, and tools because of our open-source applications.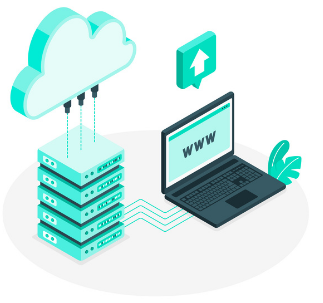 Uptime
When a visitor gets a message that it's not available then they never come back later, it mostly happens when the website goes down. So to overcome this issue, we promise 99.9% uptime to our prestigious customers.

Ease of use
Our Standard Website hosting packages make most of the pretty intuitive and provide many resources to help you get started. This will also save you time.

Speed
The extremely important factor in Standard Website hosting is its speed. Because many visitors that visit your website won't stick around if it takes longer than a couple of seconds to load. But our hosting platform promises to provide speedy loading times.

Security
To save your website from hackers that are always looking for opportunities to steal data, our team provides them with a good reputation for security. We take pride in offering SSL certification as a part of the Standard Website hosting package.

Backup features
Websites need to be backed up regularly to save from the danger of losing the data. So we provide our prestigious customers with automated backups as an affordable add-on to their Standard Website hosting.

Customer service
We provide 24/7 customer support in our Standard Website hosting package. Our main priority is to content our clients with our excellent services and packages.

SEO tools
The most important thing in our Standard Website hosting package is SEO tools which provide an easy way to customise your URLs, fill in meta descriptions, and submit your website to search engines. Moreover, it also tracks your progress over time.

Affordability
We offer our Standard Website hosting packages bill on a subscription basis, so clients can expect to pay either monthly or yearly. Or you can also consider both the upfront costs of a website hosting package and ongoing costs.