A virtual server is a virtual machine that is sold as a service by a service provider. It is one of the fastest-growing virtualization platforms in the market today.
A virtual server mimics the functionality of a dedicated server in the sense it provides similar services but in a somewhat shared environment. It shares software and hardware resources with other operating systems. Virtual servers are more common because of their more efficient resource control and cost-effectiveness.
A virtual server runs its own copy of an operating system which gives the customers super user-level access so that they can install any software which runs on that operating system. Multiple virtual servers may be implemented on a single bare metal server but each of the servers has its own operating system, independent provisioning, and software. Virtual servers are very helpful in creating a virtual environment via their infrastructure, virtualization software, and server computing resources. This environment also mimics dedicated server environments in terms of how they maintain security systems.
If you are wondering about virtual server services then visit us. We are providing elite virtual servers services to our clients. Our virtual servers are high-performance servers with high-speed SAN storage. The performance of our reliable and affordable virtual servers will amaze you.
Benefits of virtual servers include;
Faster provisioning of applications and resources.
Improved disaster recovery and continuity of the organisation.
Minimised or eliminated downtime of virtualization.
Enhances IT productivity, efficiency, and responsiveness.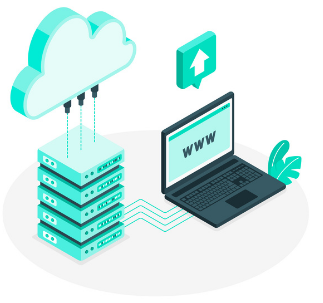 But resource-hogging is the potential problem that occurs with virtual servers which mostly happens when a physical machine with virtual servers overuses the resources of virtual servers. This performance issue is avoidable with appropriate implementation of virtual servers or to achieve efficiency divide one physical dedicated server into multiple virtual servers. This division makes better use of power and resources which in turn enables every single physical server to efficiently run.

Reduce labour requirement
We provide such virtual servers services that reduce labour for thin IT departments by alleviating ongoing maintenance responsibilities. Clients cherish our strategy of ongoing management.

Scale
Our virtual server is integrated with the cloud which makes it easy to deploy multiple copies of the same virtual machine to better serve in time of increased load.

Portability
Our team provides such virtual servers that can be relocated and makes it possible to allocate workloads to every physical server.

Flexibility
Our virtual servers are easier than installing an operating system on a physical server. It is just because our virtual servers are cloned with the operating system. Our software developers and testers can create new environments on the demand of clients.

Security
Our virtual servers improve security in several ways including firewall options, security groups, SSL and SSH options.We provide a full range of virtual server hosting choices including public, multi-tenant servers as well as dedicated servers. So for a broad range of virtual servers services browse us for a complete set of computing models to support any workload.